About Lynnwood Crossroads
Lynnwood Crossroads Shopping Center is an approximately 103,000 square foot retail destination that offers recreation, dining, lifestyle and health care for all ages.
---
Property History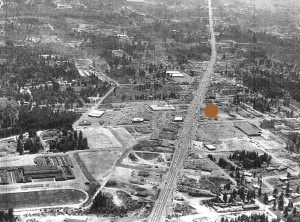 Historically, the intersection of Highway 99 and 196th Street SW was known as "Lynnwood Crossroads." In addition, locally, 196th has been referred to as the Edmonds-Alderwood Road. It was near this location that SRO originally built and operated a theater on the property called the Lynn Twin in the early 1960s, which later expanded into four theaters and was renamed The Lynn 4 Theater. Over the years SRO continued to purchase neighboring properties until approximately 12.5 acres were assembled in order to eventually become the Lynnwood Crossroads Shopping Center.
---
About Sterling Realty Organization (SRO)
We are a locally and family owned company that has been active in the communities of the Pacific Northwest since 1912. Members of the 3rd and 4th generation remain active in the business and ownership now reaches into the 5th generation. Initially SRO managed small second run theatres in Pacific Northwest cities, large and small in Washington and Oregon. In the 1930's and 1940's it operated in city neighborhoods around Seattle, such as Magnolia, Lake City, West Seattle, as well as small cities such as The Dalles, OR, Longview/Kelso, WA, Port Angeles, and Bellingham as well as California small towns around LA. In the 1950's it opened in the first suburban shopping center north of Seattle, Northgate Mall.
The company started to buy land to build theatres in areas along the main arterials and future freeway interchanges. From its early nickelodeon days, SRO grew into one of the largest amusement, recreation and entertainment operations on the Pacific Coast. By 1986, SRO had a diversified corporate portfolio including over 130 motion picture screens, 7 bowling centers, 9 radio stations, as well as swap meets, video stores, concessions and property management activities.
Headquartered in Bellevue, Washington above the John Danz theatre, SRO employed more than 1,800 people in Washington, California, Oregon, Wisconsin and Nevada. Since 1986 the operating units have been sold and we are now managing our own properties consisting of primarily office and retail properties. SRO manages in excess of one million square feet of leaseable space.
---